For most marketing, PR and communication pros, social media is a blessing. Engaging LinkedIn content, viral videos, and smart campaigns can greatly elevate a brand's cachet. But the medium can curse those who aren't careful. After all, it only takes one bad post to crush a brand's carefully cultivated goodwill.
To avoid being the next #SocialMediaFail poster child, here are a few quick hits on running a tight social media ship.
It's not personal, it's just business
First thing's first: Check, and then double-check, which account you're logged-in to. While that may seem like a most basic and obvious tip it still. keeps. happening. Preach a "check twice and post once" rule for authorized users.
Lesson: Once a post is out there, it can't be taken back. An embarrassing tweet or video may be deleted, but that strategy may backfire. Users are agile and quick to screengrab blunders, which can bring further attention to the #fail.
Your timing is off
Most social media platforms allow users to schedule posts for specific times and dates. So even if you're out of the office on, say, Christmas Day, your brand can still have a presence because of previously scheduled content.
But there's also a downside.
In between the time a post is scheduled and when it's actually sent, there is ample opportunity for unforeseen events to occur. An NRA-affiliated account had scheduled this tweet, which was shared mere hours after the Aurora movie theater shooting. The backlash was swift and unrelenting.
Lesson: Do not just set it and forget it. Be aware of external events that may affect the context of your posts.
Q&As
Q&As are all about engagement. While they open a direct and immediate line of communication, Q&As can sometimes go off the rails and take your brand off-message. British Gas knows this all too well. The energy company hosted a Q&A the same day they announced a nearly 10% rate hike for heating bills, leading to many angry questions.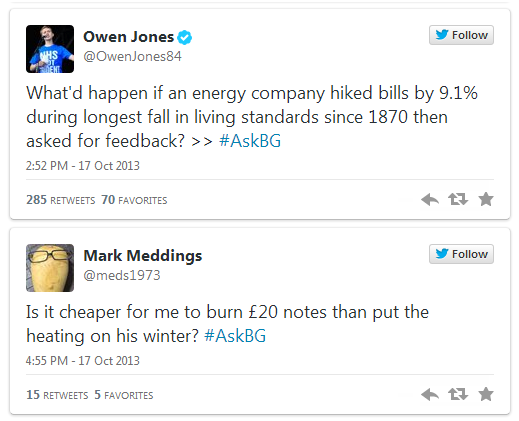 This is the danger of having marketing operating in its own "functional" silo.
Lesson: Keep your marketing team updated on major initiatives and potential crises.